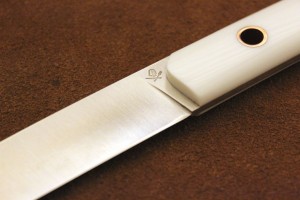 White corian and Copper
The tip's shape is the first code bender. By reversing it, it minimizes significantly the length of edge in contact with the plate. The effect is a much longer sharpness lifespan. The handle's material is an acrylic stone composite. It is made out of two third of stone powder and one third of acrylic resin. It is a reliable and waterproof material.
We're more makers than sellers and our stock is scarce. If the product you're ordering has yet to be made, please allow us 2-3 weeks before completion.
If you're a professional, please ask us for your terms
here