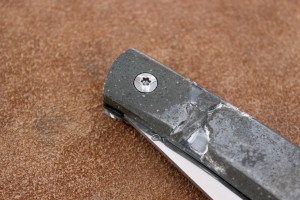 Concrete
A rather simple system this time : slip joint. We don't really need a lock if we mostly use a knife for food.
Carbon fiber liners, much lighter than steel. Armed and twice stabilized concrete scales. I wanted to play with this material so I broke the concrete in various places and let appear the metallic net underneath. The acrylic resin then flattened the surface, giving a smooth touch but still allows a perfect reading of the material. It all brings a strange contrast, between sophistication and decadence.
Another original feature, we designed a new composite type of spring, assembled like a sandwich around a thin layer of G10 (glass fiber).
Without harming the functionality, we achieved to save about a third of the metal weight. Even more, we chose titanium screws on the pivot, lighter than steel.
We're more makers than sellers and our stock is scarce. If the product you're ordering has yet to be made, please allow us 2-3 weeks before completion.
If you're a professional, please ask us for your terms
here