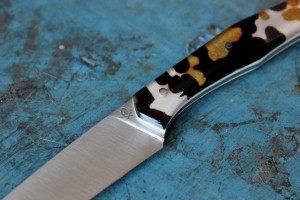 Camo
A friggin' good paring knife with a vicious edge. It has a certain ability to never leave your hand. Just try it to turn any kind of vegetable.
The handle is made of camouflage cloth under a thick layer of epoxy resin.
We're more makers than sellers and our stock is scarce. If the product you're ordering has yet to be made, please allow us 2-3 weeks before completion.
If you're a professional, please ask us for your terms
here