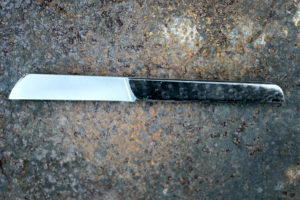 INO, Carbon fiber
I met Sam a few years back, when he mistakenly stopped by my place with Henri Vialon, looking for the previous owner of the building.
After a few drinks, we rapidly became buddies and figured out we were sharing a lot of mutual perspective towards our line of work, about what knife making is, what it could be…
Sam feels more comfortable while making one-of-a-kind knives but he just has an encouter with Chef Christian Tetedoie in Lyon and was thinking about designing a steak knife for his restaurant. He asked me if I could take care of the production, the rest is history.
A while after that, we used the same design and some of the components I developped to make a folding knife and that's what you're looking at.
We're more makers than sellers and our stock is scarce. If the product you're ordering has yet to be made, please allow us 2-3 weeks before completion.
If you're a professional, please ask us for your terms
here