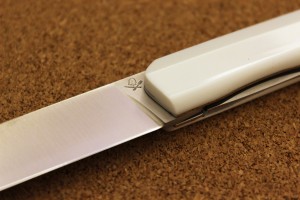 White G10 + Bamboo
Inspiration came from contemporary furniture design. I wanted to revisit the idea of knife preciosity, without using any traditional, rare material, nor hazardous to the environment.
So I chose a composite made of fiberglass and acrylic resin. Paired with the bamboo back spacer, we get a subtle balance between harmony and contrast, synthetic and natural.
We're more makers than sellers and our stock is scarce. If the product you're ordering has yet to be made, please allow us 2-3 weeks before completion.
If you're a professional, please ask us for your terms
here